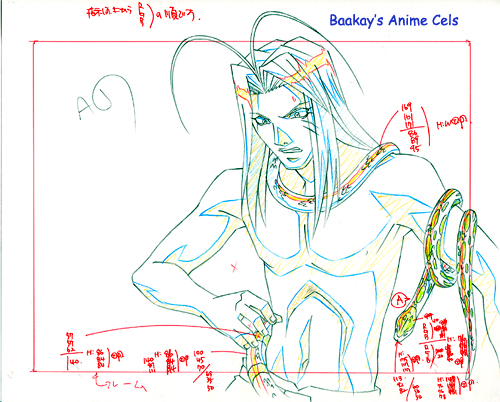 Sequence: Saiyuki Gunlock, episode 4 layout, A1
Layers: 1
Sketch: None
Background: None
Saiyuki (13)
Oh my. Bishie Fangirl Squeal time, as we have Gojyo being lovingly constricted by a rather large snake. Gojyo is a tasty bit of eye candy in any scene, but this one, by happy circumstance, has him shirtless and showing off his fine build, as well! It's also a heck of a drawing of a snake, for those of you into such things. Not quite tentacle anime, but close enough for me!
---
The copyright for all character images is held by their respective creators.
Copyright for commentary, arrangement, and this site is held by
Baakay
.
---