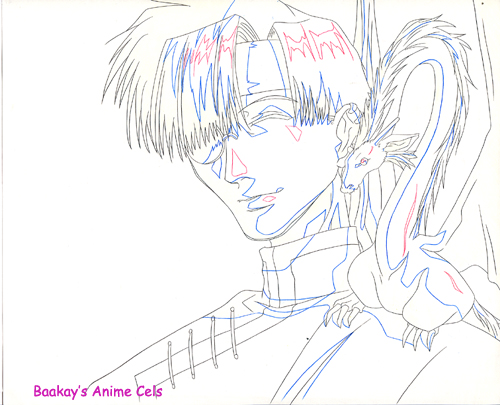 Sequence: unknown
Layers: 1
Sketch: None
Background: None
Saiyuki (13)
It's hard for me to imagine a more perfect sketch of Cho Hakkai. Here he is with his quintessential grin, his trusty Jeep on his shoulder. Yes, Hakuryu is a dragon who can conveniently transform himself into transportation as needed. Hakkai has such a horrific backstory that it's comforting to see this little creature clinging to him with such intense devotion. Oddly enough, I've watched the early episodes of Saiyuki several times and have yet to see how Hakkai makes Hakuryu's acquaintance!
---
The copyright for all character images is held by their respective creators.
Copyright for commentary, arrangement, and this site is held by
Baakay
.
---