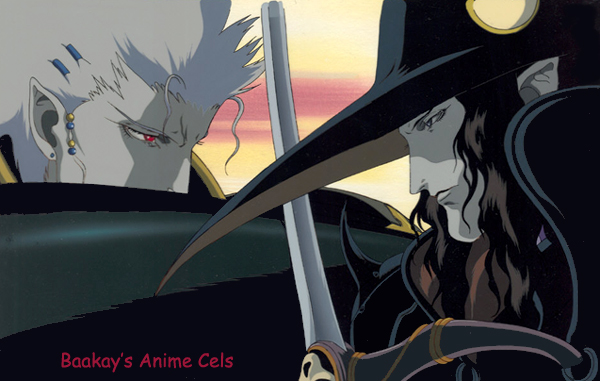 Sequence: A25
Layers: 2
Sketch: None
Background: Original Matching
Vampire Hunter D Bloodlust (4)
If you can only afford one cel from a show, might as well make it an
awesome
one. This is a simply fabulous closeup of D the dhampir fighting Meier the vampire in the final moments of the movie.
I kept telling myself I wasn't going to get suckered into collecting
Bloodlust
art even though it is amazingly beautiful, but after reading the VHD novels that have been released in English I had to re-watch the movie. And it was all over. I was exceedingly fortunate to be on top of a fellow cel collector's announcement for offers on this cel!
---
The copyright for all character images is held by their respective creators.
Copyright for commentary, arrangement, and this site is held by
Baakay
.
---