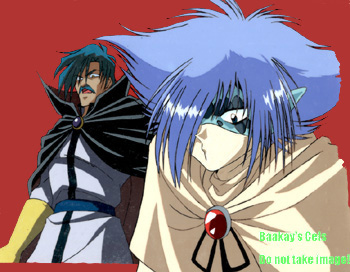 Sequence: A5 end
Layers: 3
Sketch: None
Background: None
Slayers - Group (21)
Zelgadis stands with his friend and henchman Zolf, a moderately-talented spellcaster whose greatest moment may well be when Lina scares the willies out of him with a simple light spell ("No! Not a fireball! AAAAAAHHHHH!"). Here they are reacting to the sight of Rezo turning a child to stone.
---
The copyright for all character images is held by their respective creators.
Copyright for commentary, arrangement, and this site is held by
Baakay
.
---