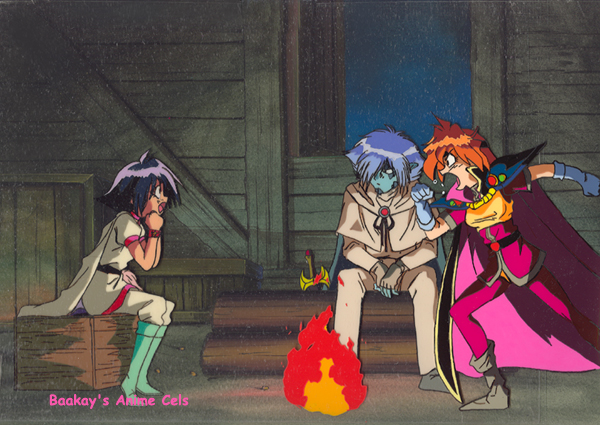 Sequence: A1 end, B4 end, C30 (maybe?) D2 end, B4 end, F4 end
Layers: 5
Sketch: 2
Background: Original Matching
Slayers - Group (21)
As the group sits around the fire, discussing their next move against Kopii Rezo, Amelia says something to which Lina apparently takes a great amount of exception! This fantastic setup had a lot of wear-and-tear damage in the form of those annoying white spots and some paint loss on the background, but with some careful cleaning it turned out quite nicely. It came with a timing sheet, layouts, and all sorts of intriguing scribbles ... The sequence number has been trimmed off the layer with Lina, but the sketch says something that looks like C30, and "stage directions" suggest she slides in from the right.
---
The copyright for all character images is held by their respective creators.
Copyright for commentary, arrangement, and this site is held by
Baakay
.
---