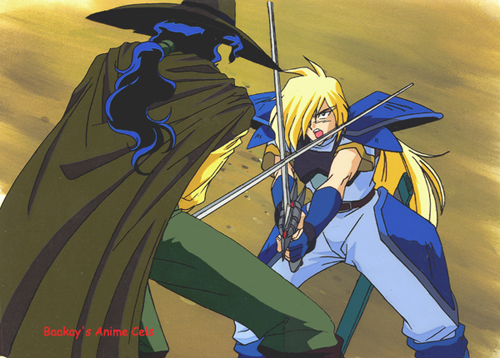 Sequence: A1, B3 end
Layers: 2
Sketch: 1 Matching
Background: Original Nonmatching
Slayers - Group (21)
Zangulus wants nothing more from life than to prove that he's better with the Howling Sword than Gourry is with the Sword of Light. This is a fabulous moment during one of their several bouts. The cel's second layer is Gourry's mouth. The layers were stapled when I received the cel, and now I know why -- both layers are trimmed unevenly from what were obviously larger pieces of cel stock. Just TRY to get that mouth to line up properly without being OVER the sword! Whee!
---
The copyright for all character images is held by their respective creators.
Copyright for commentary, arrangement, and this site is held by
Baakay
.
---