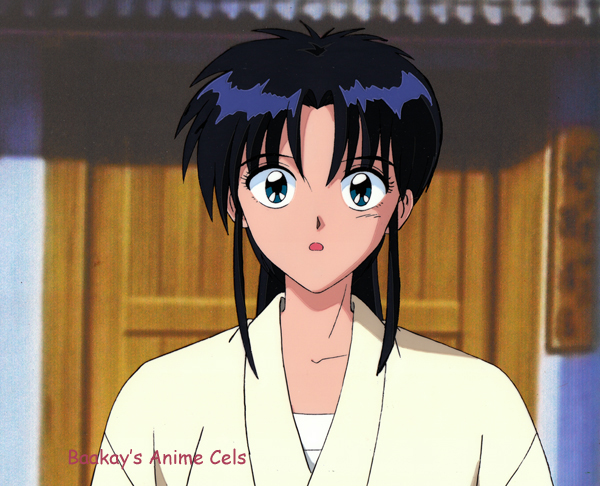 Sequence: Episode 1

A1
Layers: 1
Sketch: 1 Matching
Background: Copy Nonmatching
Rurouni Kenshin TV - Others (21)
Kamiya Kaoru originally chased the man she comes to know as Kenshin, calling him "Hitokiri Battousai." A man has been using that name as he kills, invoking the Kamiya Kasshin school of swordsmanship -- founded by her father as a way to teach peace and protection over slaughter -- as he goes. Kaoru, of course, is the acting instructor of the Kamiya dojo and is outraged.
Having disovered that Kenshin is not the person who's been smearing her late father, Kaoru runs outside to greet her three remaining students - only to learn that their parents are forcing them to quit so as not to be associated with a killer. Kaoru is stunned, as she was counting on their help to stop the false Battousai. This was another amazingly lucky find for me, at Nan Desu Kan 2005.
---
The copyright for all character images is held by their respective creators.
Copyright for commentary, arrangement, and this site is held by
Baakay
.
---