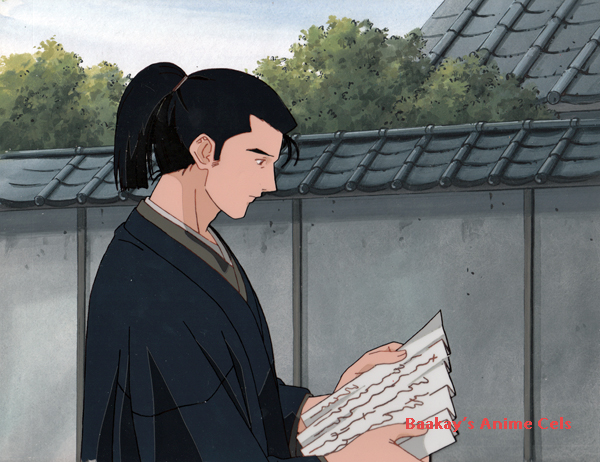 Sequence: B8
Layers: 1
Sketch: 1 Matching
Background: Original Nonmatching
Rurouni Kenshin OVA - Others (16)
Katsura Kogoro is the original name of the Choshu leader later known as Kido Takayoshi. This is one of the many historical characters depicted in the
Rurouni Kenshin
story, giving it part of its appeal.
As leader of the Choshu clan, Katsura has been trying to negotiate cooperation between the various Imperialist factions, as they struggle to deal with the life-altering changes brought about by the forced opening of Japan to the outside world. It is Katsura who spies young Kenshin at the training camp and selects him to be the Choshu assassin. Here, he is reading a report from his "examiner of assassinations," Iizuka.
---
The copyright for all character images is held by their respective creators.
Copyright for commentary, arrangement, and this site is held by
Baakay
.
---