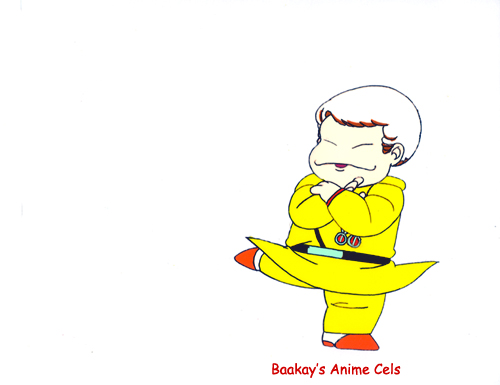 Sequence: E18
Layers: 1
Sketch: 1 Matching
Background: None
Patalliro (11)
Here's the main character from an old, old shonen-ai show, Patalliro. Poor Patalliro is the son of a recently deceased king, and finds his lazy self in charge of a kingdom. Of course, he's also a primo assassination target - not only because he's the new king, but because he's an irritating, self-serving, obnoxious little twitch! But he's not really the idiot he appears to be. In fact, he often uses his reputation as a moron to great advantage. This little dance is something he does occasionally, including the eyecatch scenes (I'm not sure whether this cel comes from the eyecatch or not).
---
The copyright for all character images is held by their respective creators.
Copyright for commentary, arrangement, and this site is held by
Baakay
.
---