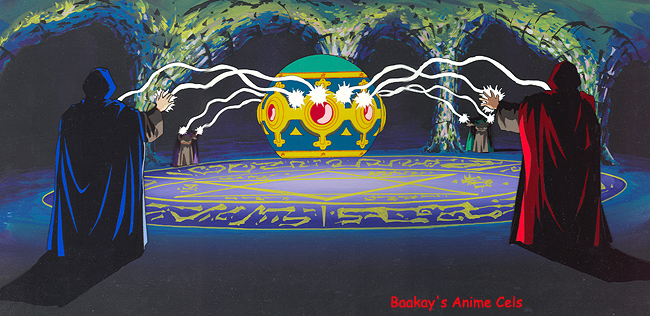 Sequence: A1 end, B1 end, C6 end.
Layers: 3
Sketch: 1
Background: Original Matching
Master of Mosquiton (16)
Wow. And again, WOW. This cel is not only enormous (sofa-painting sized) but vibrant. No scan -- not even 3 scans pieced together! -- could ever do it justice. It's in excellent condition for its age and is a joy to behold. I saw this cel eons ago, but being of lesser income then, let it go by. When a fellow cel-collector put it up for offers recently I decided I couldn't pass it up a second time. Now the challenges before me are 1) to figure out what was happening in this scene, and 2) to figure out how I'm going to care for it properly!
---
The copyright for all character images is held by their respective creators.
Copyright for commentary, arrangement, and this site is held by
Baakay
.
---