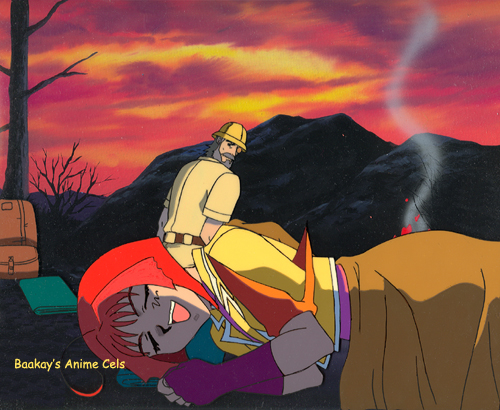 Sequence: A7 end, B8, C1, D1, E2
Layers: 5
Sketch: 1
Background: Original Matching
Master of Mosquiton (16)
What a total hoot this cel is! I didn't consider it very closely when I bid on the auction, because I was more interested in the cel of Mosquiton, Yuki, and Honou. When I examined this, though, I started giggling madly at what appeared to be flames rising from Inaho's rear quarters, as she smiles happily! The layout sheet that came with this shows the fire placed much higher against the background, so that it's obvious that she's just sleeping next to a campfire... Unfortunately, all of the layers are firmly stuck in the wrong alignment. But I think it adds that certain je ne sais quois to the scene!
---
The copyright for all character images is held by their respective creators.
Copyright for commentary, arrangement, and this site is held by
Baakay
.
---