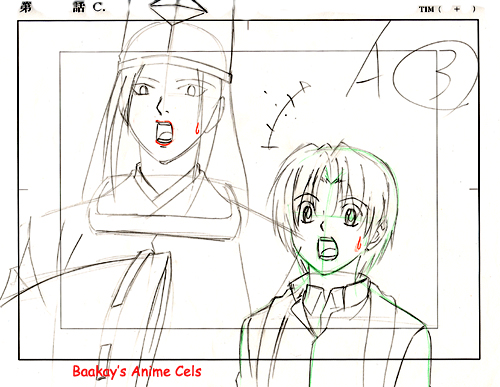 Sequence: A3
Layers: 1
Sketch: None
Background: None
Hikaru no Go (3)
It's all Pudge's fault.
In spite of reading months on end of translated manga chapters and watching the first couple of episodes of
Hikaru no Go
, I probably never would have finished the series if not for "Pudge"'s enthusiasm and obvious love for the show. I am so glad my curiosity got the better of me, for this was one of the all-around best series ever.
Here's a rough layout of Hikaru standing beside Sai, a long-deceased Go teacher who responds to Hikaru's latent talent, and changes his life. And it was a surprise gift from none other than Pudge herself :)
---
The copyright for all character images is held by their respective creators.
Copyright for commentary, arrangement, and this site is held by
Baakay
.
---