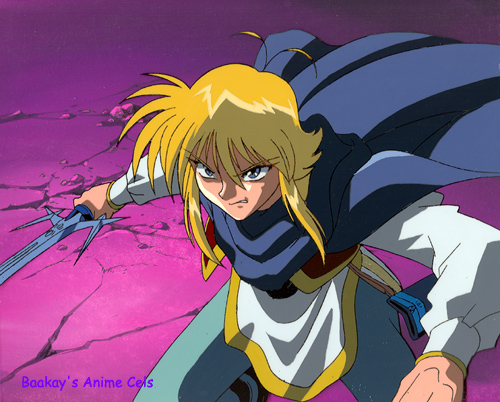 Sequence: A11
Layers: 1
Sketch: 26
Background: Original Matching
Gokudo-kun - Humans (30)
Here's a primo shot of Gokudo's twin brother, Seigi. Seigi himself is highly unremarkable except for being the absolute opposite of Gokudo. As disgusting and self-serving as Gokudo is, Seigi is genteel and valiant. He's also immensely bland, especially in comparison with his never-anything-but-jaw-dropping brother. This cel is AMAZING. It is so beautiful. And, being of a lesser known character, it is in fabulous condition. It also came with a whopping 27 sketches from the sequence, and a timing sheet. Some of these are the requisite drawing of mouth-half-open, but some are gorgeous closeups for which I'd love to find the matching cel!
---
The copyright for all character images is held by their respective creators.
Copyright for commentary, arrangement, and this site is held by
Baakay
.
---