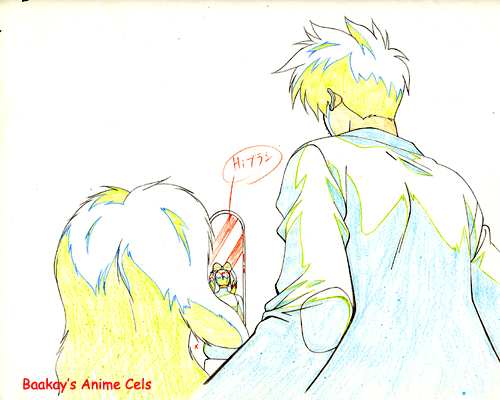 Sequence: A1
Layers: 1
Sketch: None
Background: None
El Hazard - Deities and Royals (15)
So, it's the back of his head. Who cares? Any key cel from El Hazard is worth showing. Here, Fujisawa and the fuzzy guy who serves as Miss Miz's bathtowel on occasion approach Miz from behind, as she sits before what appears to be a mirror. (Maybe she's looking out the window?) As usual I'm incredibly impressed by the details in the drawing of Miz, which is at most 3/4 of an inch tall.
---
The copyright for all character images is held by their respective creators.
Copyright for commentary, arrangement, and this site is held by
Baakay
.
---